Location map of components of Tomioka Silk Mill and Related Sites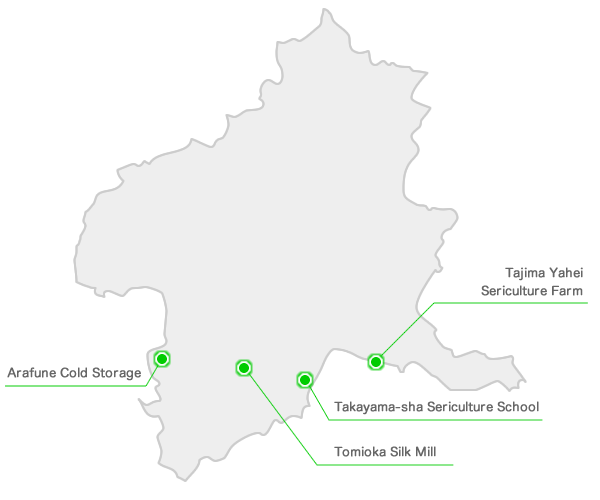 Tomioka Silk Mill / Tajima Yahei Sericulture Farm
Takayama-sha Sericulture School / Arafune Cold Storage
NOTE: Some silk industrial heritage sites include private houses. Therefore, you may not be able to visit or take photos in such a case.
Description of the " Tomioka Silk Mill and Related Industrial Heritage"
Technological Innovation changed the world
Valuable heritage sites
Tomioka Silk Mill and Related Sites witnessed technological interchange between Japan and the world, and innovations that realized the mass production of high quality raw silk. Historically, silk had long been considered a rare fiber, enjoyed by privileged classes. However, with the significant contribution of Japanese mass production technology, silk became available to the general public, enriching the lives and culture of people worldwide.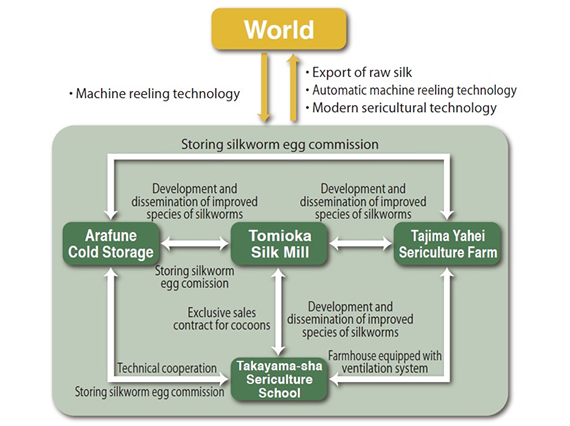 Historical background
 Silk production started in China around B.C.3,000. Factory based mass production started in Europe in the 19th century, when Japan had just opened its port and begun to introduce western technology. Tomioka Silk Mill, established in 1872, led the modernization of Japan's silk industry. Furthermore Japan's own innovations in sericulture were responsible for the successful mass production of cocoons needed to produce raw silk. As a result, Japan became the top exporter of raw silk in the beginning of 20th century, changing silk from a luxury fiber to one that was more affordable. After World War II, the automatic silk reeling machine was invented in Japan. This machine has since been exported to many countries, further contributing to the popularization of silk.