The World Heritage Committee adopted "the Global Strategy" at its 18th session(1994), recognizing that some categories of heritage, such as properties in Europe, historic towns and religious buildings, and Christianity were over-represented in the World Heritage List, and encouraging to consider other categories such as industrial heritage, 20th century architecture, and cultural landscapes.
On the basis of such a background, ICOMOS, which is in charge of the evaluations of nominated cultural heritage sites, signed "Collaboration Agreement" with TICCIH (The International Committee for the Conservation of the Industrial Heritage), which is an international organization on research of industrial heritage, to request the cooperation in the evaluation of industrial heritage.
Definition of industrial heritage
TICCIH defines "Industrial Heritage" in the Nizhny Tagil Charter for the Industrial Heritage (2003) as follow;
"Industrial heritage consists of the remains of industrial culture which are of historical, technological, social, architectural or scientific value. These remains consist of buildings and machinery, workshops, mills and factories, mines and sites for processing and refining, warehouses and stores, places where energy is generated, transmitted and used, transport and all its infrastructure, as well as places used for social activities related to industry such as housing, religious worship or education." (Excerpt from the text on the website of TICCIH ).
Values of industrial heritage
TICCIH also defines its values as follows (Excerpt from the text on the website of TICCIH )
The industrial heritage is the evidence of activities which had and continue to have profound historical consequences. The motives for protecting the industrial heritage are based on the universal value of this evidence, rather than on the singularity of unique sites.
The industrial heritage is of social value as part of the record of the lives of ordinary men and women, and as such it provides an important sense of identity. It is of technological and scientific value in the history of manufacturing, engineering, construction, and it may have considerable aesthetic value for the quality of its architecture, design or planning.
These values are intrinsic to the site itself, its fabric, components, machinery and setting, in the industrial landscape, in written documentation, and also in the intangible records of industry contained in human memories and customs.
Rarity, in terms of the survival of particular processes, site typologies or landscapes, adds particular value and should be carefully assessed. Early or pioneering examples are of especial value.
Industrial heritage registered as world heritage sites (typical examples)
The United Kingdom:Ironbridge Gorge, Derwent Valley Mills, Saltaire, New Lanark etc
France:Royal Saltworks of Arc-et-Senans, Canal du Midi etc
Germany : Mines of Rammelsberg and Historic Town of Goslar, Volklingen Ironworks etc
Netherlands:Mill Network at Kinderdijk-Elshout etc
Italy:Crespi d'Adda etc
Japan:Iwami Ginzan Silver Mine and its Cultural Landscape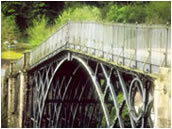 Ironbridge Gorge
The world's first bridge constructed of iron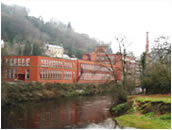 Derwent Valley Mills
Birthplace of the factory system, including the world's first successful water-powered cotton spinning mill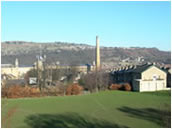 Saltaire
Industrial village which reflect mid 19th century philanthropic paternalism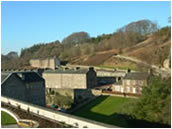 New Lanark
A model industrial community created by Utopian idealist Robert Owen.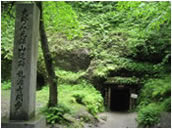 Iwami Ginzan Silver Mine and its Cultural Landscape