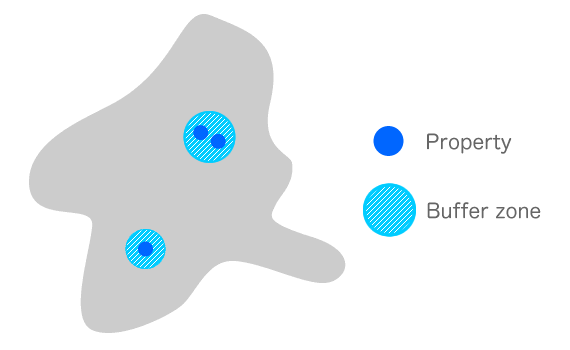 Area of the property
To be inscribed on the World Heritage Site list, an appropriate boundary should be drawn for each nominated property. More specifically to say for cultural property in Japan, the area of the property should be designated or selected based on "the Law for Protection of Cultural Properties," and should be placed under appropriate protection and management.
Buffer zone
For the purpose of protecting the property's value as a World Heritage Site, a buffer zone is an area surrounding the nominated property, which protects its landscape and environment, for example. The range should be determined in each case based on professional research. To be designated as a world heritage, an adequate buffer zone is required, but there is no special rule for its registration. It is secured by applying laws and ordinances in each country.
In the case of the serial nomination, a buffer zone should be provided for each component parts of the property. If necessary, a buffer zone protects plural component parts together.