Joshu (present-day Gunma Prefecture) was at the center of Japan's thriving silk industry in which women supported their households by raising silkworms, and by producing filature and textiles. From the Meiji Era to the end of World War II, many women were employed in silk factories or as silk weavers. The Joshu man was proud of his spouse and affectionately termed her "The Best Wife In the World." Thus, the image of the "kakaa denka woman" (a wife who controls the house) became popularized and now symbolizes a hard-working woman who takes an active role in the home or workplace. Visiting silk factories or traditional houses of silkworm production evoke images and memories of the dedicated women who supported Japan's development.
Sound of loom, smoke of silk reeling and sea of mulberry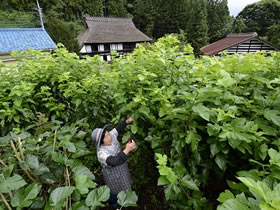 A woman cropping mulberry leaves
Silk is made from silkworm cocoons. Silkworms are sensitive worms which used to be called "Okosama (a respectful way to refer to children)" and bred carefully in the house as if they were children. The care of silkworms was an important task of the women who ran the household and, especially in the growing stage, they even had to cut down on their sleep to feed the silkworms mulberry leaves. Taking care of silkworms, doing other farm work and preparing meals, those women worked so hard that they could barely take a rest and played an active role as a central figure of farm workers.
As Japan underwent the transition from the Edo to Meiji period and Joshu changed its name to Gunma Prefecture, silk became a principal export to acquire foreign currency, which made the sericulture, silk reeling and weaving in the prefecture flourish even more. One of the greatest writers in the Meiji period, Tokutomi Roka, wrote a poem about his impression of Gunma Prefecture at that time as "sound of loom, smoke of silk reeling and sea of mulberry*". Riding the wave of the times, the Joshu women further expanded the field of their activities.
(*Tokutomi Roka's essay "The Mountains in Joshu" 1899)
Wives should hold the purse strings in farming families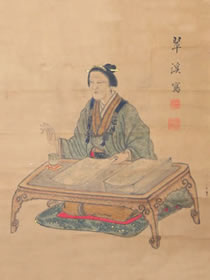 Portrait of Nagai Ito
Tomioka Silk Mill, established in 1872, employed young women from around the nation as silk-reeling female workers, and gathered from the region large numbers of cocoons for the raw materials. At that time, Ito married Nagai Konshuro, a sericulture farmer from Katashina Village. She endeavored to improve sericulture techniques to help increase cocoon production with her husband. Even after he passed away, she persevered to carry out the intention of her deceased husband, and finally founded a school to teach Nagai's silkworm-rearing method. Nagai Ito stood on the platform and stated during her lecture, "wives should hold the purse strings in farming families". She said this because women had played a central role in silk production, which was a source of income for farmers.
In the village, there is no family that does not do sericulture and there is no woman who does not do silk reeling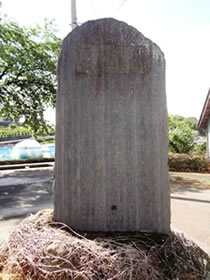 Stone Monument of Kanra-sha Obata-gumi
Not only in sericulture and cocoon making, those women also got to improve their techniques of spinning cocoons into thread (silk-reeling by hand).
Those farms came to collaborate as a silk-reeling union to sell raw silk and supported the Japanese economy as much as mechanical silk-reeling in terms of both thread quality and production volume. The stone monument of Kanra-sha, a major silk-reeling union, is engraved, "in the village, there is no family that does not do sericulture and there is no woman who does not do silk reeling", clearly depicting the active role of Joshu women (Kakaa). While earning cash income by selling raw silk, they did not forget to secure a small amount of silk for their family, weaving and making ceremonial kimonos for themselves and their family members. Furthermore, they passed on their kimonos and techniques from generation to generation.
Nishijin of the West, Kiryu of the East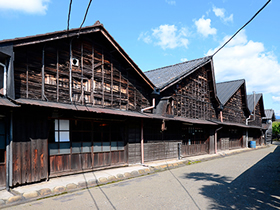 Textile factory with saw-tooth roof
(Goto Textile Company)
As Japanese raw silk was dominating the world, the silk textile industry also continued developing. As had been said since the Edo period, "Nishijin of the West, Kiryu of the East", Kiryu was known as the production area of high-quality silk textiles. Kiryu was also supported by women, who gathered from surrounding villages and were called "weaving women". Many of those weaving women visited a shrine honoring Princess Shirataki, who is said to have introduced textile weaving to the region , to pray for improved techniques.
With the start of the Meiji period, many textile factories with distinctive saw-tooth roofs were built. In these factories, more women played an active role as weavers. These women also engaged in twisting*1, dyeing and hata-goshirae*2. In the city where they ate out, went to the sento (public bathhouse) and sometimes strolled in their favorite kimono and Western-style clothes during their break, the footprints of those active women, streets of merchant houses and factories, and even boarding houses and sento are still preserved. The city of Kiryu has been an observer of the lifestyles of those modern women.
*1 Twisting a thread according to the type of textile to be woven
*2 Preparation for pattern weaving
Get to know the figure of Kakaa
The techniques and culture of Japanese silk textiles are inherited by present-day Gunma. The kimonos that were made by farm women for themselves and their loving family, while working hard to produce silk, are still carefully preserved. In the city of textiles, Kiryu, there are factories in production where experienced craftswomen are working even today. By wearing beautiful Japanese traditional kimono and visiting nostalgic farm houses and the streets of the city of textiles, you'll be able to feel the spirit of "Kakaa", who have supported Japan.
"Kakaa Denka: The Silk Story of Gunma" is a story in which you feel the figure of "Kakaa", the women who have supported their family, community and Japan, by actually touching silkworms, reeling silk from cocoons and weaving silk cloth.
Council of "Kakaa Denka: The Silk Story of Gunma "
We conduct activities to raise public awareness about the Japan Heritage "Kakaa Denka: The Silk Story of Gunma", and to have people in Japan and abroad understand the silk culture in Gunma and the silk industry-related history and culture. We also collaborate with World Heritage and Gunma Silk Heritage sites to attract tourists and promote regional activation. The council is comprised of the following members.
Gunma Prefecture / Kiryu City Board of Education / Kanra Town Board of Education / Nakanojo Town Board of Education / Katashina Village / Kiryu City Tourist Association / Nakanojo Town Tourist Association / Akaiwa Fureainosato committee / Katashina Village Tourist Asoociation / Tomioka Silk Mill World Heritagae Ambassadors / Goto Limited Partnership Company / Morihide Textile Company